EarthRise SoundSystem is the artistic and live team of author / yogi / producer Derek Beres and producer / percussionist David "Duke Mushroom" Schommer. Beres and Schommer originally met in New York City, and paired up to explore common cultural and sonic ground and create unique soundscapes that work equally well in the yoga studio or club and lounge. They have each since relocated to Los Angeles.
The duo's first record, The Yoga Sessions, went to #5 on the iTunes World chart and was featured in the NY Times, Yoga Journal and the Boston Globe. Their follow-up, the digital-only release Remixes Are Songs Too, compiled a number of their remixes, including takes on Femi Kuti, Vieux Farka Toure, Nickodemus and others, and featured 'Labyrinths,' the theme song from the acclaimed documentary, DMT: The Spirit Molecule.
Rock Beats Paper, released in August 2013, is a wide-ranging, upbeat effort featuring vocals by C.C. White, Lucy Woodward, Kevin Mambo, MC Yogi, Vishal Vaid, Srikala, Davi Vieira, Sheela Bringi, Marti Nikko and more.
The EarthRise SoundSystem Remix Project is the duo's latest endeavor. This collection of four-track EPs features a number of artists that Schommer and Beres have long relationships collaborating with and playing alongside. Ranging from ambient soundscapes to throbbing dance floor smashes, these sixteen remixes of original ERSS material is certain to set dance floors on fire and let listeners drift away to lush downtempo beats and orchestration.
---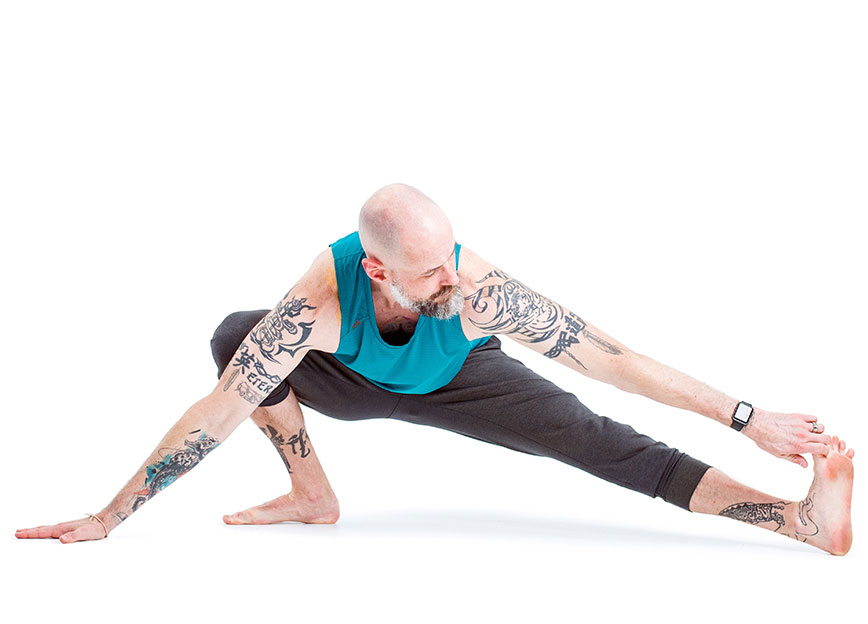 Derek Beres is a multi-faceted author, music producer, and yoga/fitness instructor based in Los Angeles. He is the creator of Flow Play, an innovative program that fuses yoga, music, and neuroscience, offered nationally at Equinox Fitness. His next book, Whole Motion: Training Your Brain and Body for Optimal Health, will be published by Carrel/Skyhorse Publishing in July 2017. Derek is ACE, AFAA, Schwinn, and Kettlebell Athletics certified. A former world music magazine editor, he has written for dozens of publications, and is currently a columnist for Big Think and 24 Life. He leads teacher training modules in yoga philosophy and music, movement, and neuroscience at Yogis Anonymous in Santa Monica, Strala Yoga in New York City, and Buddhi Yoga in La Jolla. He was the Creative Director of the Tadasana Festival of Yoga & Music, and has been featured in the NY Times, LA Times, Shape, Fitness, NPR, and numerous other outlets. Alongside David 'Duke Mushroom' Schommer as EarthRise SoundSystem, the duo has released three albums and four EPs. Derek has also produced albums for Six Degrees Records and Vieux Farka Toure. He tours internationally with GlobeSonic, and was a regular guest at the legendary Turntables on the Hudson parties and resident DJ of Kollektiv with Karsh Kale. He served as music supervisor for the breakthrough documentary, DMT: The Spirit Molecule, and is the host of the EarthRise Podcast.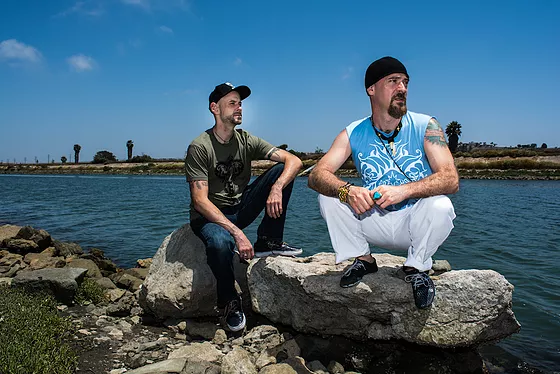 David "Duke Mushroom" Schommer is a platinum-selling producer, writer, and versatile musician. Duke has written and produced with artists as varied as the Baha Men, Carole King, Cooler Kids, Nile Rogers and Chic, Donna Summer, Cyndi Lauper, and Michael Tolcher, before recording his groundbreaking foray into Global Sound, Bole 2 Harlem. As one-half of the production team PopRox, he remixed tracks for Method Man, Montell Jordan, Sisqo, DMX and Bob Marley among others. Besides being one of the original performing Cast members of Stomp!, his percussion credits include Gloria Estefan, Janet and Michael Jackson, Die Warsaw and Cher, as well as playing on over 50 other records for the likes of Roger S, Tony Moran, Masters at Work, Static Revenger and Erick Morillo. He has also scored several films, including Accepted, as well as the 2008 IDA winning documentary, A Walk to Beautiful. His songs and productions have been licensed in over 40 films and TV shows as well as numerous commercials.